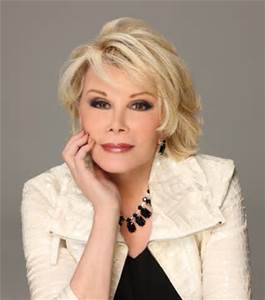 Joan Rivers died recently at the age of 81. And since her passing, there has been a lot of talk about the impact she made on our lives and our society. So, what have we learned from the comedian who made us laugh . . . and built an empire, all at the same time?
Joan Rivers broke all the rules and somehow managed to turn her stand-up comedy routine into big business. She was funny, but even more important, she was smart!
Find a Mentor
The first lesson from Joan is: find a mentor! Johnny Carson was Joan's first mentor and he nurtured her talent, invited her to appear on his show dozens of times and gave Joan Rivers the boost she needed to rise to the next level of show business. Now, we can't all find a famous mentor like Johnny Carson, but this is a great example of how a good mentor can not only inspire and teach you the business, but also provide a helping hand during the difficult years of your career.
When You Find Yourself in Hell . . . Keep Going!
Although Johnny Carson was a great mentor for Joan Rivers, he stopped talking to her when she launched her own competing talk show on another network. It seemed like her career was over when her show tanked and she lost her best friend and mentor. But to Joan's credit, she never gave up.
She just kept right on going. Which brings out the next great lesson: live your life with tenacity and perseverance! As Winston Churchill once said: "When you find yourself in hell, just keep going." And that's exactly what Joan River did. She grew bolder as she got older. She'd been fired, bankrupt, out of work and widowed, but through all that, she kept on fighting for new opportunities and worked until the day she died.
Sexist, Shmexist!
Comedy was especially difficult for women in Joan's early career start. In fact, when she first opened at a club in New York, the local newspaper reviewer categorized her as "a bright girl overcoming the handicap of being a woman comic." Overcome it she did. Before long she had her own late-night show and her well-known line: "Can we tawk?"
The lesson here is: turn your liabilities into assets. To Joan, being a woman comic was unique, not a handicap. And she made the most of her uniqueness and special appeal as a woman.
Offensive or Honest?
Joan was both. She was offensive to others and also honest about herself. She is most famous for speaking openly about her plastic surgery. The lesson here: own your most controversial choices. Joan joked about her plastic surgery at every opportunity. She said: "I've had so much plastic surgery that when I die, they will donate my body to Tupperware."
Joan taught us how to laugh at life and laugh at ourselves. Enjoy every moment!