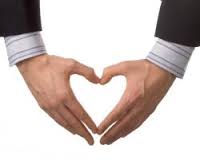 Love, just like business, is all about building relationships, doing the right things and fanning the flame when it starts to go out. Love will steal your customers' hearts and keep their loyalty forever. In honor of Valentine's Day, apply these 3 Romance Lessons, and watch your business heat up!
Business Romance Lesson #1: Remember Those Most Important to You.
Companies, like people, sometimes let themselves "go." They put on some extra weight, get caught up in bad habits and forget how to romance those (customers, employees, partners and vendors) that are critical to their happiness and success.
As with any relationship, if you ignore the ones you love, they will seek love elsewhere. Let your customers, employees, partners and vendors know you appreciate them; and they will come back for more.
Business Romance Lesson #2: Don't Give Up Too Soon.
Being in love can be frustrating at times. Relationships don't always develop at the rate you were hoping and sometimes you're just not "feeling the love" back. But once you've committed, do what it takes to keep the relationship intact.
Dig in for the long haul. Take the high road, cut a little slack, stick with it and you'll reap ample rewards when your customers sing your praises, your vendors give you preferential treatment and the media hails you as one of the best places to work. Now you're feeling the love!!
Business Romance Lesson #3: Be Fun.
When you're fun, everyone wants to be with you, talk to you, work with you and join your team. Have you visited Pike's Place Fish Market in Seattle, WA? They sing, poke fun at their customers, throw fish around, dance and entertain. What was once a bankrupt fish market is now a major tourist attraction with exponential revenue growth and customers standing in line to join the fun . . . and buy fish.
It's not: "Girls Just Wanna Have Fun. . ." everyone does. Create a fun environment and your employees will love coming to work, your customers will love buying from you and your vendors will love being a part of your community.
What's love got to do with it? Everything!