Books
Featured on New York's Times Square billboard.
#2 on Amazon List of Top 10 Books for Business Success!
PERFORM LIKE A ROCK STAR and Still Have Time for Lunch (Second Edition)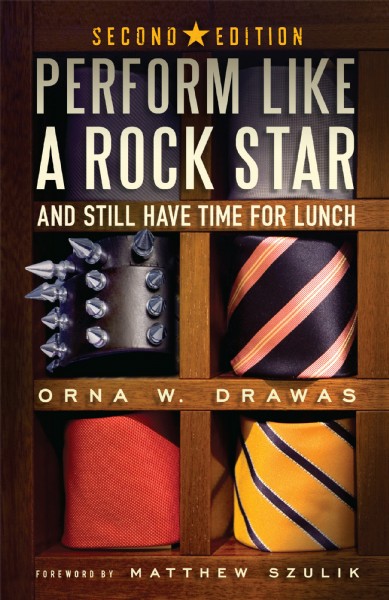 The second edition of PERFORM LIKE A ROCK STAR and Still Have Time for Lunch has more rockin' ideas than the first. As with her best-selling first edition, Orna Drawas shows readers how to become Rock Stars in their world. With entertaining stories, fun anecdotes, surprising statistics, and real-life examples, the reader learns key business and life lessons.
The second edition has two NEW chapters. The "Fishing for Solutions: Coaching for Success" new chapter leads the reader through the process of teaching others to solve problems for themselves. The coach doesn't need to have all the answers but rather helps others think clearly, review all their options, and make the best possible decision moving forward.
Additionally, "The Good. The Bad. And the Conflict." new chapter demonstrates that conflict is actually the impetus for change and positive improvement. If handled well, conflict encourages people to grow, creates opportunity, and builds better relationships.
The book is a fountain of ideas presented to take advantage of your strengths and identify those significant tips and techniques that will turn you into a rock star. You will learn to:
Master your day when you plan your work and work your plan. Take control of your day and you get control of your life.

Focus on the real priorities and feel great about your accomplishments.

Create a breakthrough goal, something that when achieved has the opportunity to up-level everything in your life. And then make it happen using a simple formula.

Outsmart and defeat procrastination for once and for all.

Stop rewriting the same To-Do list day after day. Create a list that leads to action.

Delegate effectively by motivating others to follow through and succeed.

Coach your employees, colleagues, boss, and even your family to accomplish the results they desire and achieve the success they deserve.

Deal with interruptions, follow the rules of email to increase everyone's productivity and run meetings that bring immediate results.

Identify conflict as an opportunity to improve the situation, find a better solution, and create positive change.
Who wouldn't want to perform like a rock star and still have time for lunch? Surprisingly, it's much easier than you might think!
FREE: DOWNLOAD TABLE OF CONTECTS AND INTRODUCTION
CONTACT us directly for large volume purchases.
PERFORM LIKE A ROCK STAR and Still Have Time for Lunch Cards!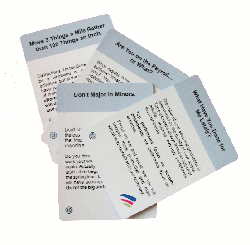 This 35-Card Deck is loaded with Rock Star Rules of Success!
Pick a card, any card, and put it in your wallet, tape it to your computer, leave it on a co-workers desk or stick it on your mirror.
Use the cards for team meetings, personal goals, project management or as simple reminders. Here's just a sample of some of the key concepts in every pack:
Are you stoned or just checking e-mail?

Move 3 things a mile rather than 100 things an inch.

One of these days is none of these days.

Why are you on the payroll?

Don't major in minors.

Can't sleep? Make a list.

So many choices. So little time.

Do me a favor . . . get to the point.
FREE: READ ALL THE CARD TITLES
COST: $9.95/Deck plus $4.00 Shipping & Handling