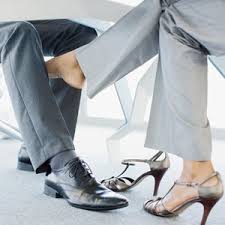 Dear Orna: I love to flirt, but my roommate says I'm putting my job at risk. Is it OK to flirt at work?
~ Signed: Having Harmless Fun :-)!
Dear Having Harmless Fun: In the popular show, The Office, Pam and Jim's romance is an entertaining and beautiful thing. But in real life, things rarely go that smoothly.
At Your Own Risk
Although flirting at the office seems like harmless fun, you have to keep in mind the possible consequences of your behavior. Accept the fact that some co-workers will likely lose respect for you, quickly. And they might be the more senior people . . . so you may suffer the consequences when it's time for a promotion or a raise.
And what if the object of your flirtation wants to take you up on your advances? This is dangerous if your intentions are not serious. Misunderstandings can be very awkward - especially in a professional work environment.
And finally, the strongest point of all . . . a recent Tulane University study found that flirtatious women got fewer raises and promotions! No kidding. The study found that women - all MBA graduates - who sent flirtatious e-mail, wore short skirts or massaged a co-worker's shoulders at work - were earning 30 - 35% less than their less flirtatious counterparts.
So women, before you flirt, ask yourself if it's worth it!
Dating at the Office Instead?
Many singles say that the office is the only place to meet people to date. So why not? I say: Proceed with caution! One way to avoid disaster is to know up-front what both of you want from the relationship. If one person is looking for a fling and the other is eyeing the rings at Tiffany's, it is probably not going to work out. But so long as you are both on the same page, and maintain a professional image at work, then have a go at it . . . but be discrete. This is not a situation to flaunt, especially if you are taking it seriously.
Don't Cross the Line.
How can you tell if your flirting has crossed the line and is possibly inappropriate? Take this test: would you feel comfortable telling your spouse or significant other about your behavior or interaction at work? If you feel the need to cover up, then you have probably crossed the line.
Flirting at work? Proceed with caution!